Digital Media Solutions
Search Engine Optimization
SEO or Search Engine Optimization is the process of getting traffic from the "free," "organic," "editorial" or "natural" search results on search engines.
SEO services play a large role in any online marketing strategy as a website must maintain high visibility in order to continually bring traffic in the form of customers and leads.
With major search engines making hundreds of adjustments to their algorithms each year, SEO is an ongoing digital tactic that requires strategy and constant attention in order to keep your website visibility high.
By Targeting keywords, consistently publishing relevant content, and adding new links to company content we can improve both your site's visibility and your bottom line.
Search Engine Marketing
If you have ever noticed the advertisements that appear at the top of search results on Google and other search engines, you are already familiar with pay-per-click (PPC) or SEM advertising.
The most common type of PPC is the paid search ad. These ads appear when people search for things online using a search engine like Google – especially when they are performing commercial searches, meaning that they're looking for something to buy. This could be anything from a mobile search (someone looking for "pizza near me" on their phone) to a local service search (someone looking for a dentist or a plumber in their area) to someone researching franchises (like yours).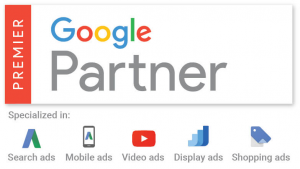 Custom Keyword Plans
Competitive Keyword Bidding
Segmented Campaigns for each area
Continuous Optimization
Ad Extensions
Mobile Only Text Ads
Expanded Text Ads
Advantages of Working with Franchise In-Sites as a Premier Google Partner:
All employees have Google Adwords certifications
Have access to Masters of AdWords features
Have access to Google's beta features
First in line for Google Support
Ongoing training to keep up with the latest best practices
Concentration on lowest Quality Score
Social Media Advertising and Management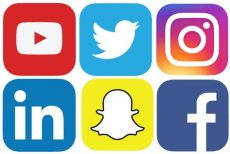 Having a strong presence on social media is critical these days. However, what a lot of businesses and franchises do not take advantage of is the power of social media advertising and paid ads. Building your social presence online takes time, but with the help of effective franchise social media advertising, you can generate instant results by utilizing paid ads on social media platforms.
We know that our audiences visit top social media platforms such as Facebook, Instagram, LinkedIn and Twitter multiple times a day. These social platforms offer advertising opportunities to reach your target audience and drive traffic to your website.
1st and 3rd Party Email Marketing
Email marketing is one of the original forms of digital communication and continues to be an integral piece of franchise marketing campaigns. It is often more cost-effective than traditional marketing methods and can be used to create an interaction. It can also be used to nurture candidates and potential customers as well as providing public relations campaigns. Combining emails and social media help power your digital marketing strategy.
Franchise InSites develops targeted email marketing campaigns to reinforce brand identity, convey brand messages, and increase engagement at both the franchisor and franchisee levels. We utilize best practices to create powerful and engaging content in order to increase click-thru rates and increase traffic both on the web and in-store.
Franchise Portal Advertising
Determining the Best Sites and Leveraging our Deep History and Understanding of the Portal Industry Helps Position Your Brand for the Greatest ROI.
We work with all of the major portals and see lead counts as well as sales conversions across multiple verticals. This, combined with homework on your specific concept, gives us the information we need to assure your listing is positioned correctly within the industry. As your concept's growth goal increases, we can increase the advertising accordingly. We can detail for you why certain sites have leads that convert better than others and what some sites do that can "water down" the lead quality by providing too many options for the end-user – both on their portal and after the end-user has left.
Geo-Fencing and Event Targeting
Franchise In-Sites provides a few types of geo-specific advertising to our clients:
A geo-fence is a virtual perimeter for a real-world geographic area. A geo-fence could be dynamically generated—as in a radius around a point location, such as professional trade shows or competitor's locations.
Event Targeting – Event targeting allows us to capture retargeting data from users in a targeted location ONLY on the date and time of your targeted event (i.e. franchise conference). After the event has concluded, we'll stop capturing data. This precision targeting helps prevent accidentally capturing users who are irrelevant to your intended audience who may be attending other events held in the same space at other times. We leverage this data to retarget users who attended your targeted event for up to 30 days.
Website Development
Your website is the digital face of your brand and we help you with every facet including:
Mobile Friendly Websites – Our responsive, mobile-friendly websites help searchers find your key business information from their phones and tablets, not just their desktop computers.
Landing Pages – We design landing pages specifically for your advertising campaigns to help increase conversions and gather valuable client information.
Copywriting – We create relevant content for your site using keywords and topics applicable to your audience that also help improve your SEO rank.
Maintenance – We implement the software and plugin updates that are crucial in creating both user-friendly experiences and a stable environment.
Website Hosting – We host your site in a stable environment to reduce downtimes and protect your online assets.
Franchise In-Sites knows that your website is critical to your brand success. Each of our franchise website design projects starts with gaining an understanding of the concept, the target audience, and the geography.
Thanks to our relationship with excelerate digital, our web development team has a staff of fully integrated communication experts at our disposal, allowing us to look at the impact and effect of each piece of the site individually, and on each other.
Testimonials
When we launched UFC GYM this year and decided on an internet portal advertising strategy, I turned to David and his staff to help me sort through the seemingly limitless number of options available to us. With their advice and counsel, we not only put into place an effective plan that is exceeding our goals… Read more "UFC Gym"
Philip Jacobs, Director of Franchise Development
https://www.ufcgym.com/