Our Process
We leverage an ongoing process of discovering, defining, designing, deploying & measuring. In our eyes, there's never a true finish line with our process! It's never a 'set it and forget it', or a one size fits all solution with us! Your campaign will evolve over time based on performance, shifting goals, and the competitive landscape of the industry, all things we are keeping a pulse on throughout our partnership.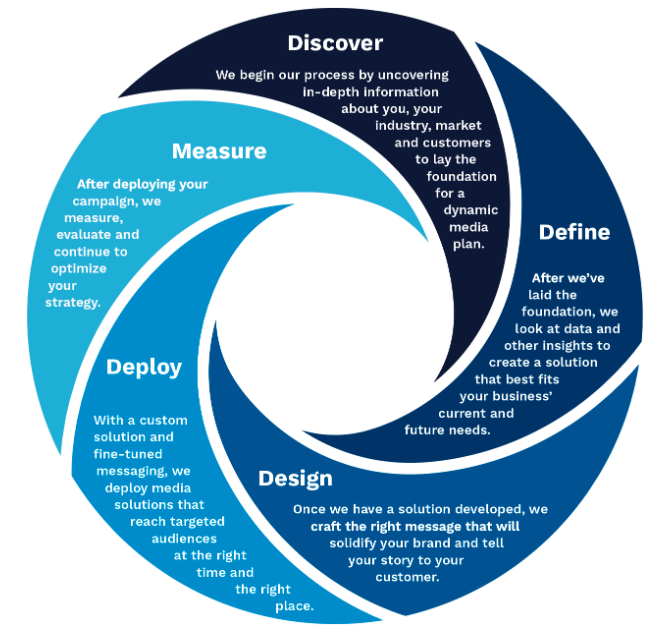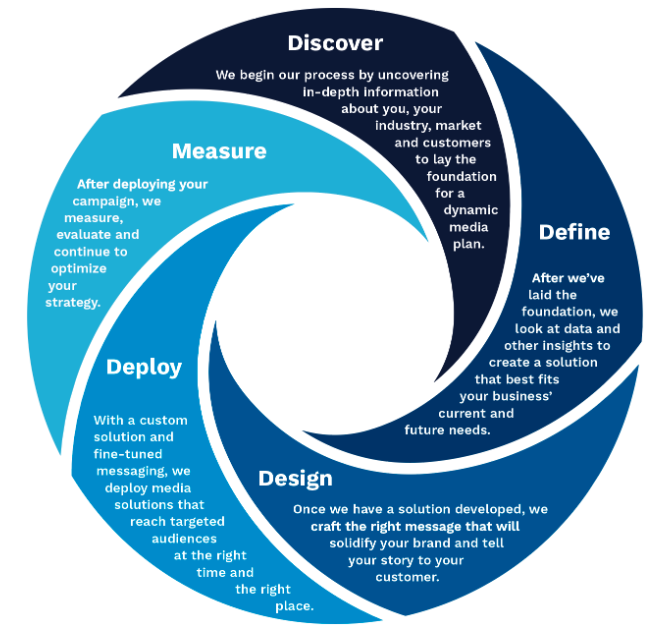 While it seems daunting, there is a logical flow of events and a system that we follow in order to be as efficient and effective as possible for you. We begin with Complimentary Research and a Media Plan based on your budget. We create this by sitting with you and asking specific questions to get a clearer understanding of the needs and goals of your franchise business.
From there, no less than 5 digital experts spend 30+ hours doing front-end research on your industry as well as the digital presence and marketing efforts of your brand and its competition. This research is the foundation used to create a Comprehensive Media Strategy providing key insights and recommendations for a multi-solution campaign that allows your franchise brand to meet and exceed its business objectives.
1. We get to know your franchise and your goals for both new-unit and in-store growth.
2. We research your business and your competitors in 10+ platforms to learn the industry players and see what their marketing efforts are.
3. Based on your goals, the research we do, and our experience, we then build a custom marketing plan for your business.
4. The marketing plan is brought to life by creative and advertising experts, with our guidance and understanding.
5. We then continually optimize your campaigns to drive the right results and deliver monthly analytics on what's been done and insights on how to tune it.
Testimonials
When we launched UFC GYM this year and decided on an internet portal advertising strategy, I turned to David and his staff to help me sort through the seemingly limitless number of options available to us. With their advice and counsel, we not only put into place an effective plan that is exceeding our goals… Read more "UFC Gym"
Philip Jacobs, Director of Franchise Development
https://www.ufcgym.com/